Anita Wincencjusz-Patyna
YOUNG PEOPLE LIKE IT HOT: "SHARP-EYE SKILLS" ALSO OUTSIDE LEGNICA
 Varieties of pepper, from cayenne pepper to chili, curcuma, garlic or ginger. The whole palette (oh, the colours of them all!) of delicious but in some cases hot as hell spices, along with evil sensations on our tongues, somehow always connotes "Sharp-eye skills" to me. It is a real hot feast we are invited to every year within the Satyrykon festival, as our eyes have often  been dulled with kitsch iconosphere of every-day reality. One thing is certain, the Satyrykon admirers, both the authors and the audience, undoubtedly have such skills, some of them may as well boast with high skills, even if they only learn to visualise them as they are still so young. These skills in their condensed form occur in June in Legnica, however they are permanently inherent for many young people, and this foretells a bright future for Satyrykon.
"Sharp-eye skills" is a genuine artistic phenomenon, which ideally has inscribed within the frames of cartoon festival in Legnica since 2011. It is a cycle of presentations of students from Polish art universities, from the studios of illustration, book design or, in general, graphic design, and the venue of the exhibitions has always been the Foyer of the Helena Modrzejewska Theatre. Undoubtedly, the publications which accompany the shows are brilliant documentation of the "Skills". They serve as exhibition catalogues, and actually they are attractive group portfolio of particular studios. The jubilee edition of Satyrykon 2017 coincided in time with the seventh show which closes down a certain episode of the academic presentations.
Some of the best ideas are born on the stairs – as we find ourselves somewhere in between, neither up nor down. On certain stairs in Legnica Market Square, in one of conversations of which many take place during Satyrykon, and this particular one was led by Ela Pietraszko and Zygmunt Januszewski in 2011, a oncept of "Sharp-eye skills" sprouted. This way the "Skills" co-opted very decent God Parents. She wanted to show the young, He asked why she did not, She asked Him to coin the name for the presentations, He prepared the first show. The Studio of Illustration from the Warsaw Academy of Fine Arts appeared first as the natural order of things, and in the following years other art academy studios would introduce themselves like clockwork, even though Professor Januszewski was not there any longer. Somehow subconsciously, or even deliberately at times, they would raise the standards for the future presentations.
"Sharp" publications have become a fascinating and visually irresistibly attractive arena of these design encounters. The first cover, designed by Monika Hanulak, was brightly yellow with a teddy-bear spouting blood in a cartoon style, and a razor blade cut in a shape of a D-letter. It would deprive the recipients of illusions as it indicated strong, also in its very forms, ingredients; it promised humorous, metaphorical and young "anarchist" contents. In the following year we received a huge ear conch with a tiger-pattern war paint designed by Agnieszka Frydrych, caricatures of students made by their professor, master Tomek Broda, a skull drowned in black, designed by Martyna Wawrowska; one year later, just in contrast, a dazzling pink background proposed by Szymon Szymankiewicz, and eventually two covers of one catalogue designed by Mariusz Andryszczyk.
The distorting mirror is an enemy of easily accepted beauty. We look into it fearless… (Zygmunt Januszewski) 
Warsaw had the most difficult, and at  the same time the easiest task. In 2011, students from the Studio of Illustration run by Prof. Zygmunt Januszewski showed the way for the subsequent courageous presentations. As this quality unites them all. Perhaps these works are not perfect in terms of technique, maybe in some cases they are wordy, it might have also happened that some of them are too "dependant" on others, but they are always sincere and brave, what results from the students' young age, the fact of standing on the initial step of the career ladder, uncompromisingness and criticism of the views towards their close and a bit more distant surroundings, which are all ascribed to youth. The Warsaw Studio with its 60-year-old history has the richest of all the schools tradition related with illustration. For over twenty years it was run by Jan Marcin Szancer, and then for the next twenty-five years by Prof. Janusz Stanny. It was the course studio of Monika Hanulak, Agata Dudek, Małgorzata Nowak and Jacek Ambrożewski, to name only these who participated in the first "Sharp-eye skills", who have managed to feel at home in the area of Polish illustration, and have been successful in national and international competitions. Monika Hanulak dictated high standards and provoked the series of original publications by designing the first "Skills" catalogue so darefully. Agata Dudek has been a member of the Satyrykon jury as a winner of the Festival Grand Prix 2009.
We tend to observe life which is played on a pipe or danced on a rope (Eugeniusz Koniarek)
In 2012 the Academy of Fine Arts in Gdańsk introduced themselves at the "Skills" by presenting students' works from the Studio of Illustration run by Prof. Jadwiga Okrassa. Of all the presented by now exhibitions this show was dedicated in its biggest part to photography according to the graphic design students' interests and artistic activity. The media spectre was extended by painting and photomontage, next to "obvious" for illustration techniques, namely drawing and digital media. A complete lack of text as an integral part of compositions featured this set of works. Another distinction would be love for grotesque and prevalence of human and animal figures. The catalogue was designed by Zygmunt Okrassa.
I miss odd birds among my students (Tomek Broda)
2013 belonged to two studios run separately by the Satyrykon mainstays from Wrocław, Magda Wosik (Grand Prix 2017) and Tomek Broda (Grand Prix 1997 and numerous other Satyrykon awards). A strong representation of the Graphic Design Department from the Eugeniusz Geppert Academy of Art and Design in Wrocław got their hands on life in every possible manifestation. The Wrocław presentation comprised many comics, notes, sketches, takes, views, and predominating fierce drawing. Effects of eavesdropping and peeping have been represented with talent in pictorial tales. Their catalogue is smaller than others in the series but elegant indeed as it is the only hardcover one. Inside, except for the students' spontaneous visual statements, we can find a record of Tomek and Magda's brilliant conversation about the past – their adventures in student times, and the presence – the academic teachers' hazards among students. Students' very short bio notes from the Warsaw issue have been extended here to become much longer, humorous portraits of the "Skills" participants, thus becoming a pattern for the Katowice edition catalogue.
We try hard to care about our students' dark visions (Bogna Otto-Węgrzyn)
In 2014 the time came for the Academy of Fine Arts in Katowice represented by the Studio of Book Graphic Design run by Bogna Otto-Węgrzyn, and the Studio of Illustration run by Anna Machwic-Adamkiewicz. Interestingly, the first atelier is located within the frames of the Printmaking Department, while the other within the structure of the Graphic Design Department. Packs of gifted students from the first one make use of all accessible nowadays forms and streams of artistic expression in a vast area of "book": art books, art zins, self-publishing, virtual hypertext, liberature, etc. Therefore we have been given a wide selection of commercial leaflets, prayer books, vintage school handbooks, leporello, computer games, Fluxus Conceptualism, slides with fairy tales and so on and so forth. The works from the other studio are vivid, socially engaged and highly emotional in their majority. They reflect natural variety of students' quests, and they seem to confirm their talents, and an attitude highly recommended by Prof. Tomasz Jura, the studio founder and Satyrykon proponent – "No single day without a line!". Last but not least, a real gem – a catalogue accompanying the exhibition designed by Martyna Wawrowska (following the concept of Bogna Otto-Węgrzyn, Roman Kaczmarczyk and Katarzyna Wolny).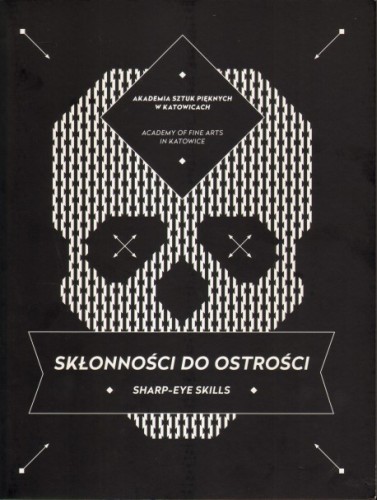 And again we have been successful in seeing something differently (Roman Kubicki)
In 2015 the "Sharp-eye skills" show introduced three studios from the University of Arts in Poznań: Studio of Poster I run by Prof. Grzegorz Marszałek, Studio of Poster II under Prof. Eugeniusz Skorwider, and Studio of Editorial Illustration run by Prof. Mirosław Adamczyk. Quite naturally poster was a predominating form of expression within this presentation, therefore metaphors, mental shortcuts, accuracy, humour, associations, perversity, and sense of absurdity were absolute kings of this show. In terms of visual aspects it was a mixture of tradition deriving from the Polish School of Poster and postmodern iconosphere. The possibility of observing students' various accomplishments of tasks, e.g. "Something's not OK", or different versions of cultural posters: film posters, festival (Satyrykon among others), and social campaigns (obesity, gender, etc.). In other words, a set of attractive exercises in associations.
All artistic works by our students are mystified (Gabriel Kołat)
In 2016 we were able to experience "a duo" from the Graphic Design Department at the Władysław Strzemiński Academy of Fine Arts in Łódź accentuated in the very design of the catalogue (Mariusz Andryszczyk, Katarzyna Dąbek and Alicja Nowicka) with two front covers. It presents graphic design (posters, postcards, covers, publisher's series, computer games and visual identification) from one side, and from the other picture/illustration. We have received a polyphony of styles, techniques and conventions, and at the same time joint presentation of students and their teachers, what has given us a chance to follow similarities and differences in students' approach at accomplishing various tasks. First of all we have seen illustration in a very earnest, sometimes fierce drawing which derives from comics; whereas graphic design has been predominated with black-and-white or monochrome strong drawings, expressive typography and clearly defined forms.
Eye-catching "revolutions" have been replaced with private "revelations" (Jakub Woynarowski)
By far the last show of "Sharp-eye skills" has been the presentation of the oldest Polish art university, the Jan Matejko Academy of Fine Arts in Krakow, in the body of the Studio of Narrative Drawing – a peer of "Skills" – run by Prof. Dariusz Vasina. The studio focuses on telling stories by means of pictures, visual narration, creating detailed tales, therefore comic, illustration, story board and concept art are predominating ways of expression. Hence we have received sets of illustrations, fragments of stories, brave use of various shots: from details, close-ups, through middle shots, to general shots and panoramas. In these sequences of pictures we have been able to find various grades of dynamism, various moods and styles – from classical realistic drawings to abstract compositions. We have also received mocks, samples, sketches, notes, multiplied motives which become ready-made endpapers and many others.
They are young, they still learn, search, make attempts more or less insistently. They are clever. Some of them have already been recognised in various artistic circumstances, a few more names we will undoubtedly hear soon again. That's why we… KEEP A SHARP LOOKOUT!
[the quotations have been derived from the Sharp-eye skills catalogue texts]