SATYRYKON is the festival of well a established name and world prestige, what has been confirmed by awarding it a grand prix badge by American magazine "Witty World", as well as receiving a maximum note of "5 stars" awarded by FECO (Federation of Cartoonists' Organisations).
The founders of our the exhibition in 1977 were Andrzej Tomiałojć and Robert Szecówka from Wrocław.
Initially Satyrykon was a local event – it was an exhibition of the cartoons by Wrocław artists, but already in 1978 it transformed into an all-Poland's cartoon competition. For many years Legnica was the first and only meeting spot for Polish satire artists, and Satyrykon has greatly contributed to the popularising of the genre in Poland.
The following years were the time of the expanding of Satyrykon's formula and the development of its content. 1980 was the year for the first International Photographic Exhibition Fotożart ("Photo-joke"), the cartoons sent then were competing in two categories: satire and joke. Both competitions were linked by one prize: Grand Prix of Satyrykon.
In 1985 the All Poland's Cartoon Exhibition gained officially the status of an international event. It is then that new contacts with foreign artists and organizers of foreign festivals were established. One of the effects was wider promotion of the festival in Germany.
The International Exhibition SATYRYKON is nowadays a competition open to cartoonists, engravers, sculptors, poster-designers and photographers.
Every year a few hundred artists form a few dozens of countries send thousands of their works to Satyrykon.
Apart from the post-competition exhibition Satyrykon includes numerous events, concomitant of the exhibition. The most important of them are individual exhibitions by the most outstanding artist. So far Legnica has seen exhibitions by: Eryk Lipiński (the creator of the Caricature Museum in Warsaw), Szymon Kobyliński, Zbigniew Jujka, Andrzej Mleczko, Edward Lutczyn, Sławomir Mrożek, Roman Cieślewicz, Franciszek Starowieyski, Franciszek Maśluszczak, Gerhard Gepp, Janusz Kapusta, Zygmunt Januszewski, Andrzej Czeczot, Janusz Stanny, Jiri Sliva, Andrzej Krazuze, Rafał Olbiński, Zdzisław Witwicki, Andrzej Legus, Grzegorz Szumowski, Leszek Wiśniewski, Borislav Stanković, Mikhail Zlatkovsky.
Also eminent are the artist who (among them Zygmunt Januszewski, Stasys Eidrigivicius, Janusz Kapusta, Eugeniusz Get-Stankiewicz, Jerzy Czerniawski, Wiktor Sadowski, Wiesław Wałkuski, Wiesław Rosocha, Rafał Olbiński, Mieczysław Górowski, Jan Lenica, Krzysztof Nitsch, Piotr Gawron, Tomasz Ross, Józef Stasiński, Jan Kucz, Magdalena Dobrucka, Ludmiła Ostrogórska, Antoni Grabowski, Waldemar Świerzy, Andrzej Krauze, Mirosław Gryń, Wiesław Grzegorczyk, Sławomir Sokołowski) are the authors of the graphic design of the publications and medals of Satyrykon. These works of art constitute nowadays a valuable collection.
Another wonderful collection owned by Satyrykon is the collection of works donated by the authors from Poland, Europe, Asia, Australia and both Americas. The Gallery of Satyrykon – is the name of the collection which includes at present about 25 thousand works.
A great collection of satirical works, also concerning culinary topics, being the gifts from the grateful guest, and a number of plates decorated with drawings by members of the jury and other Satyrykon guests, may be also found in Tivoli restaurant. For many decades it was a place where the artists coming to Legnica used to feast and enjoy each other company. The retirement of the restaurant lifelong owner ended a certain epoch in the history of Satyrykon and blew the whistle on the beautiful legend.
During the last 46 years the organizers of Satyrykon have been able to group around the exhibition the best artists of the genre, win a wide audience, as well as its fans, jurors and sponsors. The result was the publishing of two large issues (A and B) of the newspaper Satyrykon.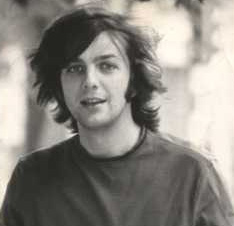 ANDRZEJ TOMIAŁOJĆ (1947-1991) – was a man meritorious in the development of culture. It is to him that Legnica is indebted for Satyrykon, Legnica Poetry Days, and Jazz Misterium, the good reputation of, now no longer active, Parnasik Club and a number of other important events.
As a real aristocrat of soul, Tomiałojć was a man of great sensitivity. He was able to perceive elements of grotesque, joke or philosophical humour in every day. He was no stranger to "black humour" of his friend, Maciej Zembaty. These features of his personality gave us the beginnings of Satyrykon in Legnica, supported then by talents of people like Robert Szecówka.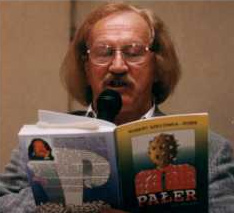 ROBERT SZECÓWKA-ROBS (1935-2020) –  an architect, scenographer, cartoonist, caricaturist, and satirist. Awarded many times for his works in Poland and abroad at exhibitions (among others) in Belgium, the Netherlands, Canada, Germany, Great Britain, Italy and Ukraine.
He was one of the founders of the international festival SATYRYKON in Legnica, regarded as one of the most important presentations of caricature in the world.
He has so far published in Poland and abroad over ten thousand cartoons and a few dozens of small exhibition forms. He is also the author of a grotesque novel "Pałer" composed of 20.000 words beginning with a letter "P". The book shows the unique resources of the Polish language.