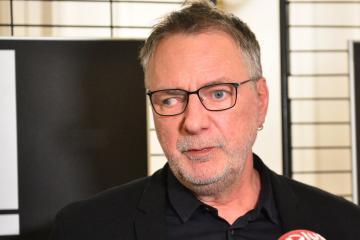 Graduate of the Academy of Fine Arts in Lodz. He has been living in Paris since 1987. He is one of the most respected poster designers in the world. He creates graphic design for prestigious theaters, centers and cultural institutions. He has won many international awards and his works have been exhibited in numerous galleries around the world
Michal Batory is a Lodz-based and Paris-based world-renowned graphic designer, awarded in many competitions and known primarily for his posters. During this year's Satyricon proceedings, he held the honorable position of chairman of the jury. Shortly after the results were announced, he answered some of our questions.
Are there any specific social trends to be observed in this year's satyrykon works?
The artists focused primarily on various problems – of course, there were frequent references to war and strong criticism of the position of religion in society. And, of course, the issue of death and life is often raised, but this is probably more related to the theme of war.
The proposals of foreign artists stand out – thematically or compositionally – compared to Polish artists?
I'm not just saying this because I'm Polish, but our country has a very developed visual culture. These are years of work creating our art of poster, illustration, film and animation. I am often on the jury of competitions around the world and Polish paintings very often win them. They are very professional – artists can code, and this is extremely important. I can also talk about the pleasure of working in the jury of Polish competitions, because they always receive interesting works. It's similar in France, and Mexico, impressed by Polish poster art, is also a leading country in this respect. Poland is omnipresent in painting and illustration.
It's difficult to judge graphic techniques that are slightly different from those in which you move on a daily basis?
The question of jury or evaluation is somewhat problematic in general. It's situation photography – you choose the here and now. I think a jury of completely different people could have singled out totally different works – everything is so relatable that there's not much to worry about. The selection was made, but it should be remembered that this is not a universal selection.
With the deliberations of the Satyrykon jury, it is impossible to miss the question – the selection was unanimous?
Almost unanimous. However, some jurors come from completely different cultures, and such different sensibilities usually generate disputes. But in the case of Satyrykon, everything went smoothly, very calmly and based on a real discussion. This is very important – by talking you can come to common conclusions.
Do any problems happen during the discussion?
There is always discussion, but some competitions invite artists known to the jurors, whose works are then pushed through the committee. This is very unpleasant. Sometimes one feels that it is not a real jury, but more like the promoters of fellow artists. Satyrykon is completely free of such practices.
Do you have to prepare for jury work in any special way?
The jury is, as usual, a collective work. One should absolutely stick to the rules of selection, stage by stage. If one walks this line, everything is done correctly. The rules must be somewhat "military", otherwise too many works and doubts about the selection are left. When everything is well aligned, the jury ends up a little less tired. If we were to sit here for 5 more hours and talk about one poster or illustration, it would be endless fun – hence the rules. The work with the most votes wins, and that is the basis.
Can we single out the greatest value communicated by satyricon artists?
I believe that each of these artists is searching for the underlying truth. The one who comes closest to it, keeping in mind the workshop, wins. In illustration, as in poster art, you can't fool the viewer. Finally, I want to give a nod to the organizers – everything is excellently prepared, and even if one does not know Poland, one does not feel lost, and as a result, the proceedings went positively. Thank you very much!
And we also thank you very much.