When on 20th February 2016 I found out that the international jury chaired by Mr. Gabriel Kołat, after having seen 2519 works by 741 authors from 58 countries from around the world, decided to award Grzegorz Myćka the 1st Prize – a gold medal in category "Evil", it sent shivers up and down my spine.
This shy – at least at first glance – student of doctoral studies attended by him in the Poster Studio run by me, was born in 1989. This significant year of so many turning points in Poland and abroad was vertiginous indeed. The birth of Grzegorz in this particular year could not have been accidental! In 2011-2015 he studied printmaking at the Graphic Art and Visual Communication Department, University of Arts in Poznań. He was awarded a diploma in Prof. Piotr Szurek's Intaglio Studio. But how come that he started to be involved in poster design? Myćka claims that he was confused by the doors. One day he bumped into my studio knocking some stools over, so he stayed. Together with my then assistant, and now an assistant professor, Dr. Marcin Markowski, we immediately got to like Grzegorz for his fresh and original entry (I think of his works, let's leave the stools behind). Myćka speaks about his posters that "(…) in the question of form are very different – from photography, through constructing vector forms, to experiments with gesture and a trace of drawing (….)". My late Professor Waldemar Świerzy used to say: "Poster is not the way of painting, it is the way of thinking!". In his works Myćka uses various media which create a coherent artistic unity. A conscious and independent attitude has been born out of this variety. He does not take part in "suspiciously ambitious" projects. He seems to realise that an artist is not a profession. "A pilot, a surgeon, a bridge builder – they must be professionals. Being a poet, or a priest is not a profession, it is something more. For an artist his workshop is essential but it is not enough. You have to take care of many indefinable issues, for instance, an attitude towards values. Participation in poor quality, unambitious productions… is not unpunished. It leaves an imprint." (Antoine de Saint-Exupéry, The Wisdom of the Sands).
The exhibition introduces ca. 20 of my favourite posters designed by Grzegorz Myćka. I am not going to either enumerate, or analyse them. Any poster speaks for itself. For some time now many artists have run away from Poznań to Warsaw. They find Poznań a boring, middle-class city, and its citizens – not interested in art people. I do hope that Myćka will stay here, and will serve as an example for those who would like to catch an Intercity Art train Poznań-Warsaw. They do not realise that you are supposed to have a proper ticket. Right on this train the conductors, I beg your pardon, curators check the tickets and those with fake tickets end their journey somewhere on the way.
Grzegorz Myćka, slightly affected by ADHD, deals not only with posters but also with printmaking (he loves silk-screen), illustration, animation, and on the top of that he plays music. He organises workshops, meetings, jam sessions. One can come across him in almost all nooks and corners of Poznań… It's time for a snack. The fridge? Oh no, no, I don't even dare to open it!
I wish you success, Grzegorz!
Prof. Grzegorz Marszałek
Head of the First Poster Studio
University of Arts in Poznań
transl. Anita Wincencjusz-Patyna
Grzegorz Myćka – presentation of works by the best debutant of Satyrkon 2016
Satyrykon Gallery in Legnica
11 June – 31 July 2016
exhibition opening 5.00 p.m., 18th June 2016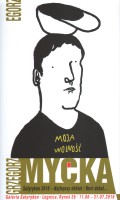 Co-financed by the Ministry of Culture and National Heritage